Bruschetta Chicken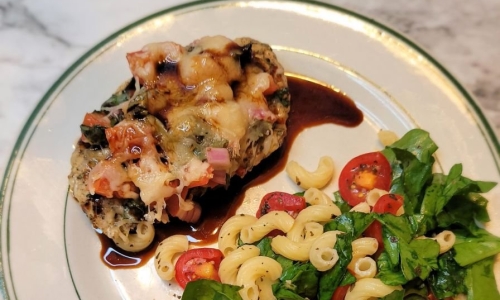 This recipe was written and/or compiled by Belinda Jones, CHHC, NWLC, PFC.
Servings: 4
Ingredients
4 (5oz) Chicken (boneless, skinless breast) – marinated in garlic, olive oil, Italian seasoning, salt substitute, and black pepper (See Notes)
½ cup mozzarella cheese (shredded)
¼ cup parmesan cheese (shaved)
Chicken Seasoning
1 tsp Italian seasoning
½ tsp granulated garlic
½ tsp onion powder
¼ tsp salt substitute and black pepper
Bruschetta
¼ tsp chili flakes
1 cup tomatoes (2-3 medium firm Roma tomatoes, small diced (seeds discarded)
¼ cup diced red onion
1 tbsp balsamic vinegar
1 tbsp garlic (minced)
4 tbsp fresh basil (chopped, more for garnish)
½  tbsp olive oil
¼ tsp salt substitute
¼ tsp black pepper
Balsamic Glaze:
1 cup balsamic vinegar 
½ cup brown sugar (optional)
Directions
Preheat the oven to 325 degrees Fahrenheit. Spray a rimmed baking sheet or a rectangular casserole baking dish with cooking spray.

Mix the bruschetta ingredients in a bowl. Set aside.

Using a pan for searing – Heat over medium-high heat – Place marinated chicken in the pan and sear each side for 2-3 minutes until caramelized coating appears.

Mix seasoning for chicken.

Place seared chicken in a rimmed baking dish or casserole in a single layer. Sprinkle a generous pinch of seasoning. Bake on the middle rack for 15-20 minutes covered with foil or until chicken registers 175 degrees Fahrenheit in the thickest part. 

While chicken cooks, combine cheeses and set aside.

When the chicken is done, remove the foil. Spoon bruschetta on top of seasoned chicken breasts and top with cheese. Return to oven.

Continue to bake uncovered until cheese melts.

Once done, transfer the chicken to a serving plate with a wide spatula. (Don't discard the liquid from the pan. It is very delicious and flavorful. Use it to season rice or refrigerate to use later as chicken stock.)

Garnish with fresh chopped basil. Serve with pasta or favorite veggie, a drizzle of balsamic glaze (optional, recipes in notes).

Enjoy!
Balsamic Glaze:
(If making from scratch, prepare while cooking chicken.) Combine sugar (if using) and vinegar in a small saucepan over high heat and bring to a boil. Reduce heat to low; allow to simmer for 5-8 minutes or until mixture has thickened and reduced to a glaze. (If not using sugar, allow to reduce for 12-15 minutes on low heat) (See notes)
Notes: 
For Chicken Marinade: I used a homemade Italian dressing (½ cup olive oil, ½ cup avocado oil, 4 tbsp Italian dressing, ½ tsp pepper, ⅛ tsp salt).
For Balsamic Glaze: I attempted using just the vinegar without sugar and wasn't able to get it to thicken to a syrup-like consistency. I then added sugar and reduced it a bit more. It needs to cool to at least room temperature before it will thicken up nicely. 
Nutritional Information
Serving size: 1 chicken breast with toppings
Calories: 359
Protein: 38g
Carbohydrates: 10g
Fat: 8g
Image of Chicken Bruschetta paired with Italian Pasta Salad