Italian Pasta Salad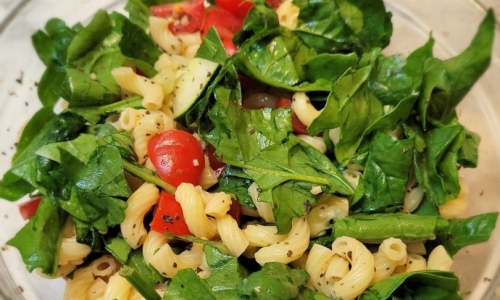 This recipe was written and/or compiled by Belinda Jones, CHHC, NWLC, PFC.
Yield: 8 servings
Ingredients
4 oz wheat pasta
3-4 cups halved grape tomatoes
¼ cup fresh basil, cut into thin strips
1 tbsp extra virgin olive oil
1 tbsp lemon juice
3 garlic cloves, minced
½ tsp salt substitute
¼ tsp pepper
3 cups fresh baby spinach, chopped
1 cup shredded reduced-fat mozzarella cheese
Instructions
Cook pasta according to the directions on the package. Drain and rinse pasta with cold water.

While pasta is cooking, chop the tomatoes and spinach, and slice the basil.

In a small bowl, mix the extra virgin olive oil, lemon juice, garlic, salt, and pepper to create a vinaigrette.

Toss together the vinaigrette with the rest of the pasta, spinach, tomatoes, basil, and cheese. 
Nutritional Information
Serving size: 1 ½ cups
Calories: 125
Protein: 5g
Carbohydrates: 12g
Fat: 3g
Image of Italian Pasta Salad (with added cucumbers but without cheese)