Whole Wheat Blueberry Vanilla Waffles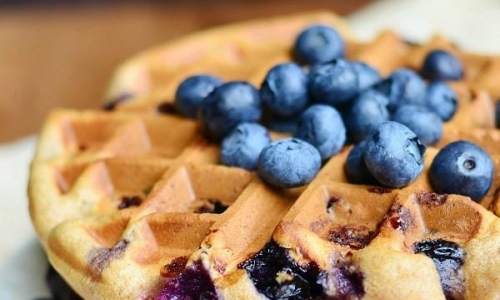 This recipe was written and/or compiled by Belinda Jones, CHHC, NWLC, PFC.
Servings: 8 waffles
Ingredients
1/4 cup of milk
1 cup water
⅛ cup vegetable oil
⅛ cup sugar substitute
1 1/2 cup whole wheat flour
1 scoop of protein powder
2 eggs
2 tsp of baking powder
⅛ cup of melted butter
1 tsp vanilla
1 cup blueberries
Instructions
In a medium mixing bowl, whisk milk, water, vanilla, oil, butter, and sugar substitute together. Whisk in eggs.

Whisk in flour, protein powder, and baking powder.

Fold in blueberries and let the batter stand while the waffle maker is heating up. 

Make sure to grease your waffle maker by rubbing an oil-soaked paper towel over the grids. Cook waffles according to your waffle maker's specifications.
Nutritional Information:
Yield: 4 servings
Serving size: 1 Waffle
Calories: 121 
Protein: 7 g
Carbohydrates: 27 g
Fat: 9 g