Veggie Breakfast Pizza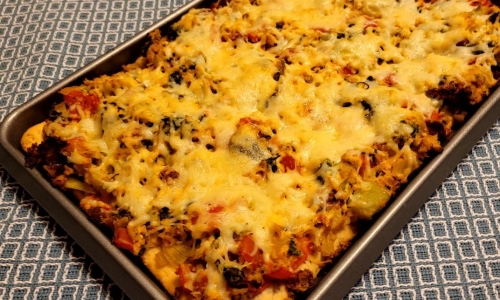 Author: Chef Belinda Jones
Serves 6 
Cook Time: 30 mins
Prep Time: 30 mins
Nutritional Information: Calories-170: Fat-2g: Protein-13g
Crust
1 pkg low-fat refrigerated biscuits 
1/4 cup whole wheat pastry flour
 nonfat cooking spray
 1 teaspoon dried basil leaves
 1 teaspoon dried parsley flakes
Remove dough from the container and place it into a mixing bowl. Add basil and parsley, using hands, mix spices into the dough, combining dough to form a single ball. 2. Sprinkle a flat surface with flour, using a rolling pin, roll dough into a large rectangular shape. Enough to fit into a jelly-roll pan. 

Spray the pan with cooking spray. Place dough in the pan, making sure it comes up the sides. 

Bake for 15 minutes at 350℉. Remove from oven.
Filling
1 cup house salsa, drained 
1 cup sun-dried tomatoes, diced
1 large onion, chopped
1 small red bell pepper, chopped
1 cups sliced mushrooms 
3 cups eggs substitute
1/4 cup Mrs. Dash's Garlic-n-herb
1/4 teaspoon black pepper
1 cup shredded fat-free mozzarella cheese
In a large skillet over medium heat, cook salsa, tomatoes, onion, peppers, and mushrooms until they are a crispy-tender. 

Combine eggs and seasonings in a separate bowl; then add to the pan. Cook and stir until eggs are set.

Spoon salsa and egg mixture over crust; sprinkle with cheese. 

Bake for 15 minutes at 350℉ or until cheese has melted and edges are golden brown.