Vegetable Breakfast Cups from Tennessee Fitness Spa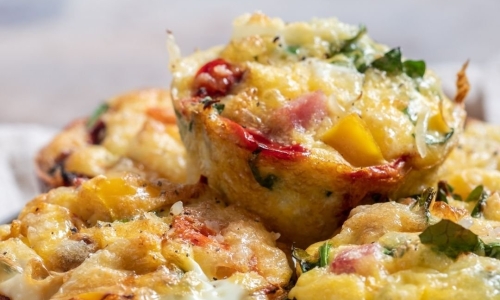 Let's chat about how to revolutionize your AM routine as autumn's grandeur takes over. When misty mornings are colored by the warmth of turning leaves, what better way to kick off your day than with Vegetable Breakfast Cups, a beloved recipe from Tennessee Fitness Spa?
The pièce de résistance in these delightful breakfast treats is the ensemble of veggies: vibrant bell peppers, robust baby spinach, and jubilant cherry tomatoes. Picture these, each snugly nestled into their individual muffin tin homes, waiting to be enveloped in a cascade of herb-infused, whisked-to-perfection eggs.
And ah, the spices! Basil and oregano make their grand entrance, pirouetting into the egg mixture with a flourish that could only be rivaled by an autumn breeze. They bring an Italian opera of flavors into each bite. Even the salt substitute and black pepper (or cayenne if you're feeling saucy) join the chorus, a harmonious backdrop that elevates each component.
Now, let's take a pause to honor the feta, that crumbly goodness. As it bakes, it's as if it sings a sultry ballad to the veggies, "I'll make you shine brighter." And shine they do!
What's remarkable about these cups is the texture— the eggs puff up into this cloud-like delicacy, while the veggies bring forth their natural, juicy crunch. Each bite is a mini-explosion of contrasting yet perfectly harmonizing textures and flavors. You can crown them with avocado slices, hot sauce, or a dollop of salsa— these cups are versatile divas, ready to suit your mood and palate!
So, as the oven preheats, and you prepare to bake, know this: you're not just making breakfast. You're crafting an autumnal hymn sung by the freshest ingredients, each bringing their unique tones to the collective melody. And when that timer dings, signaling that your breakfast cups are a golden perfection, take a moment to savor the aromatic symphony you've just conducted.
Dear friends, when you take that first forkful, and the universe of flavors unfolds in your mouth, remember you're not just eating—you're celebrating. You're honoring the dazzling tapestry of fall, all in the form of a petite, yet powerful, breakfast cup.
So, indulge, enjoy, and let each bite remind you of the morning magic that only autumn—and Tennessee Fitness Spa's divine recipes—can bring. Cheers to a season as bountiful as these breakfast cups! 🍂🍳🎉
This recipe was written and/or compiled by Belinda Jones, CHHC, NWLC, PFC.
Ingredients
1 cup lightly packed baby spinach — chopped
¾ cup each finely diced red bell pepper
¾ cup quartered cherry tomatoes — or grape tomatoes, about 1 cup whole tomatoes
6 large eggs
4 large egg whites
¼ teaspoon salt substitute
¼ teaspoon Dried Basil
¼ teaspoon Dried Oregano
Pinch ground black pepper — or cayenne pepper if you like a little kick!
¼ cup crumbled feta cheese — plus additional to sprinkle on top
Optional toppings: avocado — salsa, hot sauce, freshly chopped parsley
Instructions
Place a rack in the center of your oven and preheat to 350℉. Lightly coat a standard 12-cup muffin tin with nonstick spray. Divide the spinach, red bell pepper, green bell pepper, and tomatoes among the cups (they will be about two-thirds of the way full).

In a large bowl or large measuring cup with a spout (my favorite because it makes the mixture easy to pour), briskly whisk together the eggs, egg whites, salt, basil, oregano, and pepper until well combined. Carefully fill each muffin cup three-quarters of the way to the top with the egg mixture. Sprinkle the feta evenly over the tops of the cups.

Bake for 24 to 28 minutes, until the egg muffins are set. Let cool for a few minutes, and then run a butter knife around the edges of each muffin to loosen it. Remove them from the pan and enjoy immediately, or let cool on a wire rack and refrigerate or freeze for later.
Nutritional Information:
(Please note that all nutrition information is just estimated. Values vary among brands, so we encourage you to calculate these independently for the most accurate results.)
Serving size: 1 Muffin
Calories: 70 
Protein: 8g
Carbohydrates: 3g
Fat: 3g