Tropical Fruit Nachos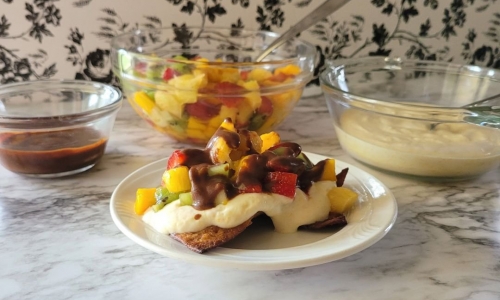 This recipe was written and/or compiled by Belinda Jones, CHHC, NWLC, PFC.
Yield: 4 servings 
Ingredients: 
1 Whole Wheat Flour Tortilla*
2 tbsp Spray Butter*
1 tsp Honey 
½ tsp Cinnamon
½ tsp Nutmeg 
1 cup Nonfat Greek Yogurt* 
1 tbsp Sugar Substitute 
1 tsp Coconut Extract 
1 tsp Orange Zest 
½ cup Slivered Fresh Strawberries 
½ cup Chopped Mango 
½ cup Diced Pineapple 
½ cup Chopped Kiwi
2 tbsp Slivered Almonds  
Carob Sauce (as a garnish)
Combine in a small bowl, honey, cinnamon, nutmeg, and butter. Using a pastry brush, coat the tortilla evenly on both sides. Cut into 8 pieces, place into the oven and bake at 400 degrees for 5-10 min or until tortillas are crispy. 

Combine yogurt, sugar substitute, coconut extract, and orange zest, mix well. 

Combine fruit into a small bowl, stir to mix well. 

Place 2 tortilla chips on each dessert dish, top with 3 tbsp yogurt mixture and 1/2 cup of fruit. Sprinkle with almonds and drizzle with carob sauce to garnish. 
You are ready to serve. 
Nutritional Information: 
Per serving
Calories: 106
Protein: 6g
Carbohydrates: 14g
Fat: 2g
*This recipe is calculated using Xtreme Wellness Whole Wheat Tortillas, spray butter, and Okios by Dannon All Natural Nonfat Plain Yogurt.