Top 10 Items to Bring to an Adult Fitness Camp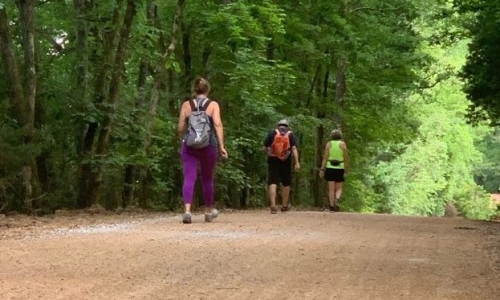 During your visit to Tennessee Fitness Spa, we provide you with fitness instruction, healthy meals, clean lodging, and outdoor activities. However, there are several items that we request – and a few that we recommend – you bring with you during your stay. Today, we're going to look at ten items that can help to make your week-long stay at Tennessee Fitness Spa comfortable, productive, and fun.
1. Comfortable shoes
Starting each morning with a 60-minute walk, whether it's on pavement or along a scenic wood-side trail, we guarantee that you'll be thankful that you brought a pair of comfortable, worn-in shoes.
2. Vaseline
To prevent blisters caused by regular walks and daily fitness training, we highly recommend that you bring a small jar of Vaseline.
3. Sunglasses
Especially if you're not used to midday outdoor activities, you'll want a strong pair of sunglasses to protect your eyes while navigating our many trails and paths.
4. Bathing suit
If you plan on participating in our aqua fitness program, or if you just enjoy a nice dip, you'll need to bring a swimsuit with you!
5. iPod/Music
Not a fan of introspective silence? By bringing along a way to listen to music, you not only gain some peace of mind but you can push yourself forward with inspiring, energetic music.
6. Journal
Probably the best way to track your progress, taking a journal to a fitness camp for adults can help you stay motivated both during and after your visit.
7. A good book
As night falls after a day of exercise, you'll need a way to unwind and relax. When you bring a book, you allow your brain to "shut down" and process the day's events.
8. Visor
To complement your sunglasses, a visor can preserve your ability to take in the views without straining your eyes. This is especially beneficial during our early morning walks.
9. Many, many socks
Walking, jogging, running, exercising, and more! Trust us when we say that, above all else, you'll always be happy to see a fresh pair of socks when you look in your suitcase.
10. A positive attitude
Finally, the most important thing you can bring: a positive attitude. At Tennessee Fitness Spa, we know that our positivity can only go so far without a willing attitude. We encourage you to let yourself experience new things… try our aerobic fitness classes or experiment with new, healthier foods! Of course, we'll always be nearby, ready to offer words of support and point you in the right direction.
Bonus 11! A face mask
We want our guests and staff to feel safe at Tennessee Fitness Spa, and until the danger of Covid-19 has passed, we ask everyone to please bring a mask.