Teriyaki Steak & Broccoli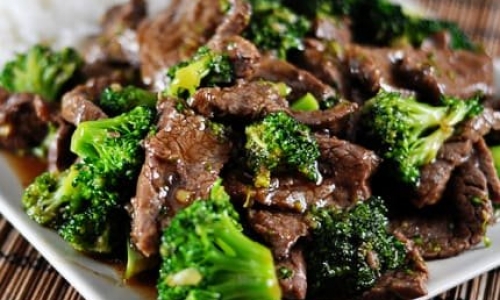 Author: Chef Belinda Jones
Cook Time: 20 minutes
Prep Time: 20 minutes
Nutritional Information: Calories- 346k: Protein- 34g: Carbohydrates- 25g: Fat- 11g 
Ingredients
For the sauce: 
1/4 cup Braggs liquid amino 
1/2 cup water 
1/4 cup brown sugar 
2 teaspoons minced garlic 
2 teaspoons minced ginger 
1 tablespoon of honey 
1 teaspoon toasted sesame oil 
1 tablespoon + 1 teaspoon cornstarch 
For the stir fry: 
1 1/4 lbs thinly sliced steak such as flank steak or sirloin 
3 cups of mixed vegetables (I used broccoli florets, slivered onion, water chestnuts,
snow peas, and sliced bell peppers) 
Salt substitute and pepper to taste 
1 tablespoon vegetable oil 
Optional garnishes: sliced green onions and sesame seeds 
Instructions 
For the sauce: 
Place the Braggs, water, brown sugar, garlic, ginger, honey, and sesame oil in a small pot over medium-high heat. Stir until sugar is dissolved, about 3 minutes. Turn up the heat to high and bring to a boil. 

Mix the cornstarch with 2 tablespoons of cold water until dissolved. Add the cornstarch mixture to the sauce and boil for 1-2 minutes or until the sauce has thickened. Set sauce aside. 
For the stir fry: 
Heat 1 teaspoon vegetable oil in a large pan over medium-high heat. Add the vegetables and season with salt substitute and pepper to taste. Cook for 3-5 minutes or until vegetables have started to brown and soften. Add 2 tablespoons of water and cook, until water has evaporated. When your vegetables are crisp-tender remove them from the pan and set aside. 

Wipe out the pan. Heat the remaining 2 teaspoons of oil in the pan over high heat. 

Place half of the steak in the pan and season generously with salt substitute and pepper. Cook for 2-3 minutes on each side or until just cooked through. Set the first batch of steak aside and repeat the process with the rest of the beef. 

Add all of the meat and vegetables back to the pan. Pour the sauce over the top and cook for 2-3 minutes over medium-high heat until warmed through. 

Garnish with sesame seeds and sliced green onions if desired. 
Note* the salt substitutes that I used for this recipe are Braggs liquid amino and salt-free 17