Teriyaki Pineapple Glazed Salmon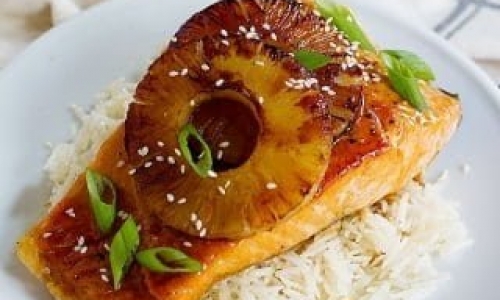 Teriyaki Pineapple Glazed Salmon
This recipe was written and/or compiled by Belinda Jones, CHHC, NWLC, PFC.
Yield 4 servings
Ingredients:
4 Salmon fillets (approximately 5 ounces each)
Salt substitute and pepper to taste
Cooking spray
1 tablespoon vegetable oil
2 tablespoons sesame seeds
2 tablespoons sliced green onions
For the teriyaki sauce:
2 tablespoons Braggs liquid amino
1/4 cup pineapple
1 1/2 tablespoons brown sugar
1 teaspoon minced garlic
1 teaspoon minced ginger
2 teaspoons honey
1/2 teaspoon toasted sesame oil
2 teaspoons cornstarch
4 pineapple rings
Instructions:
For the teriyaki sauce: Place the Braggs, pineapple juice, brown sugar, garlic, ginger, honey, and sesame oil in a small pot over medium-high heat. Stir until sugar is dissolved, about 3 minutes. Turn up the heat to high and bring it to a boil.

Mix the cornstarch with 1 tablespoon of cold water until dissolved. Add the cornstarch mixture to the sauce and boil for 1-2 minutes or until the sauce has thickened. Set sauce aside.

Heat the oil in a large pan over high heat. Season the salmon fillets with salt substitute and pepper to taste. Place the salmon, skin side up in the pan, and sear until a golden-brown crust forms, about 5 minutes. Turn the salmon. Pour the teriyaki sauce over the salmon; also add pineapple to the same skillet, and continue to cook for another 3-5 minutes until salmon is cooked through and pineapple is caramelized.

Remove from skillet to plate….

Sprinkle with sesame seeds and green onions. Garnish with pineapple and serve.
Nutritional Information:
Yield: 4 servings
Serving size: 1 Salmon fillet
Calories: 348
Protein: 35 g
Carbohydrates: 26 g
Fat: 10 g