Sweet & Savory Turkey Quesadilla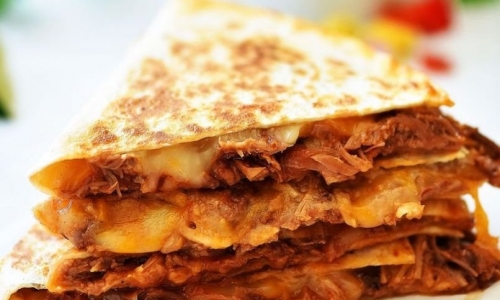 Sweet & Savory Turkey Quesadilla
This recipe was written and/or compiled by Belinda Jones, CHHC, NWLC, PFC.
Servings: 4
Ingredients
1 medium red bell pepper, chopped
1 medium yellow bell pepper, chopped
4 tablespoons olive oil
2 tablespoons balsamic vinegar
1/2 tablespoon honey
Salt substitute and pepper, to taste
2 red onions, chopped
3 garlic cloves, chopped
1 1/2 cups cooked and pulled turkey breast
1/3 cup low cal spicy BBQ sauce
4 (8in) jalapeno tortilla wraps
1 1/2 cups of shredded cheddar cheese, divided
Garlic/butter pan coating
1 cup fresh arugula
Instructions
In a small bowl, combine the vinegar, honey, and 2 tablespoons of olive oil. Season with salt substitute and pepper. In a small pan, heat 2 tablespoons of olive oil over medium heat and add the garlic and red onion. Cook until tender and slightly translucent. Add the balsamic sauce to the onions, mix well and cook over medium heat for 4-5 minutes. Remove from heat.

In a medium bowl, combine the caramelized onions, meat, and BBQ sauce.

Heat 1/2 teaspoon of the butter in a large pan over medium heat. Place a tortilla in the pan and sprinkle one half with 1/4 cup of cheese. Then layer with 1/2 cup of turkey mixture, sprinkle with one-third of bell pepper, 1/3 cup of arugula, and 1/4 cup of cheese. Fold the tortilla in half covering the filling and cook for 2-3 minutes a side, or until golden brown. Repeat with the remaining tortillas and ingredients.

Cut quesadillas into wedges and serve.
Enjoy!
Nutritional Information:
Yield: 4 servings
Serving size: 1 Quesadilla
Calories: 422
Protein: 32 g
Carbohydrates: 34 g
Fat: 18 g