Sunrise French Toast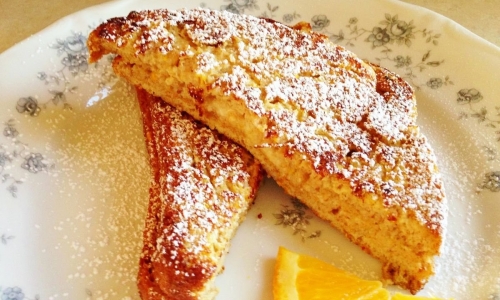 This recipe was written and/or compiled by Belinda Jones, CHHC, NWLC, PFC.
Yield: 10 servings
Ingredients
6 whole eggs
½ cup fat-free evaporated milk
1 tsp grated orange peel
1 tsp vanilla
¼ tsp ground cinnamon
1 loaf Healthy Life whole wheat bread
2-8 oz containers Dannon Light & Fit Greek yogurt
1 jar (10oz) 100% orange marmalade
Nonstick cooking spray
Vermont Sugar-Free Maple Syrup
Instructions:
Combine eggs, orange peel, milk, vanilla, and cinnamon in a medium bowl. Set aside.

Combine yogurt and marmalade. Spread 1 slice of bread with 2 tbsp marmalade mixture within ½ inch of edge. Top with another bread slice. Repeat with remaining bread and marmalade.

Spray griddle or large skillet with cooking spray, heat over medium heat until hot. Dip sandwiches in egg mixture until well saturated. Cook sandwiches in batches 2-3 minutes on each side or until golden brown.

Transfer toasted sandwiches to a jelly roll pan lined with parchment paper.

Bake at 400 degrees for 10-12 minutes or until sides are sealed. Serve with 2 tbsp syrup. 
Nutritional Information:
Yield: 10 servings
Serving size: 1 French toast sandwich 
Calories: 158
Protein: 14 g
Carbohydrates: 22 g
Fat: 1.5 g