Summer Vegetable Frittata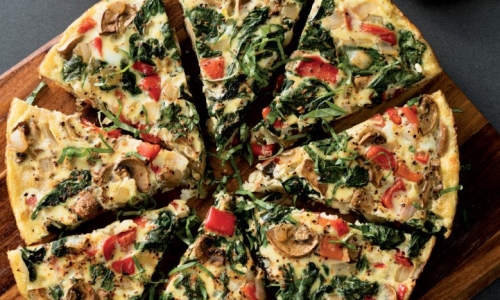 Recipe was written and/or compiled by Belinda Jones, CHHC, NWLC, PFC.
Serves: 4
Ingredients:
8 large whole eggs
⅓ cup milk
½ tsp salt substitute
¼ tsp fresh ground black pepper
1 tbsp olive oil
1 tbsp natural butter
½ cup diced roasted red peppers
½ small red onion, thinly slivered
½ cup sliced mushrooms
2 cups baby spinach, chopped
4 oz feta cheese
¼ cup grated parmesan cheese
Instructions:
Preheat the oven to 400 degrees. In a large bowl, beat eggs, milk, and spices. Warm oil

and butter in a nonstick skillet over medium heat. Add onion and mushrooms, then sauté until veggies are softened. Add onions and mushrooms to the egg mixture along with peppers, spinach, and feta cheese.
Pour egg mixture into a baking pan coated with cooking spray. Place in oven on center rack. Bake for 35 minutes. Sprinkle with parmesan cheese, and continue to bake until the center is set. Remove from heat and let rest for 5 minutes before serving.
Nutritional Information:
Serving size: 1/4 of the recipe
Calories: 230
Protein: 20g
Carbohydrates: 6g
Fat: 12.5g
Image from diabetesfoodhub.org at https://www.diabetesfoodhub.org/recipes/budget-friendly-summer-vegetable-frittata.html