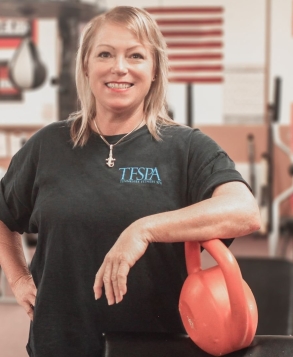 Christie Kennamer
Assistant Fitness Director / Personal Trainer
Christie is a third-generation native of Palm Beach County, FL, with family ties in Wayne County, TN since 1977. She attended The University of Florida and received a Bachelor of Science Degree in Recreation from the University of Florida in Gainesville. An emphasis on Natural Resource Management resulted in internships as an Assistant Park Ranger in Yellowstone National Park and Jockeys Ridge State Park in Nags Head, North Carolina.
Christie has been a part of the TFS family since 1997, initially hired as a walk leader, she became a certified Fitness Professional in 1998 (in and out of the water) and has been an American Council on Exercise (ACE) certified Personal Trainer since 2003.
Christie is dedicated to helping people help themselves through good form, function, fitness, and fun. Her hobbies include: kayaking, camping, horseback riding, biking, hiking, walking, windsurfing, golf, fishing, 4-wheeling, and dancing.
Christie is a "Die-Hard Gator"