Spinach & Quinoa Zucchini Boats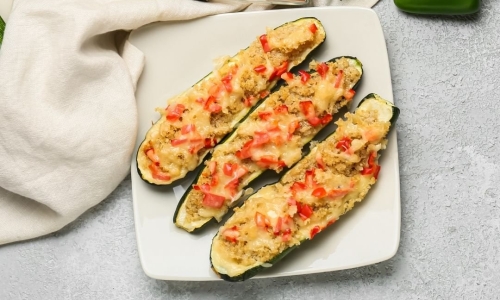 This recipe was written and/or compiled by Belinda Jones, CHHC, NWLC, PFC.
Yield: 4 servings.
Ingredients:
4 medium zucchini
½ cup egg substitute
1 cup chopped fresh spinach
¾ cups precooked Quinoa
½ cup no salt tomato sauce
⅓ cup grated low-sodium low-fat Parmesan cheese
⅓ cup finely chopped onion
1 garlic clove, minced
¼ teaspoon salt substitute
⅛ teaspoon pepper
1 can (14-1/2 ounces) no salt diced tomatoes, drained and finely chopped
1 cup (4 ounces) shredded mozzarella cheese 
Instructions:
Trim the ends of the zucchini; place them in a steamer basket. In a saucepan, bring 1 inch of water to a boil; add a basket.

Cover and steam for 5 minutes.

When the zucchini is cool enough to handle, cut it in half lengthwise; scoop out the pulp, leaving a ¼-inch thick shell. Set the pulp aside.

In a bowl, beat the egg; add spinach, Quinoa, tomato sauce, Parmesan cheese, onion, garlic, salt substitute, pepper, and zucchini pulp.

Spoon into zucchini shells.

Place in an ungreased 13-in. x 9-in. Baking dish. Bake, uncovered, at 350° for 20 minutes. Top each with tomatoes and mozzarella cheese.

Bake 5-10 minutes longer or until cheese has melted.
Nutritional Information: 
(Please note that all nutrition information is just estimated. Values vary among brands, so we encourage you to calculate these independently for the most accurate results.)
Serving size: 2 stuffed halved zucchini 
Calories: 306 
Protein: 28g
Carbohydrates: 30g
Fat: 7.5g