Southwestern Meatloaf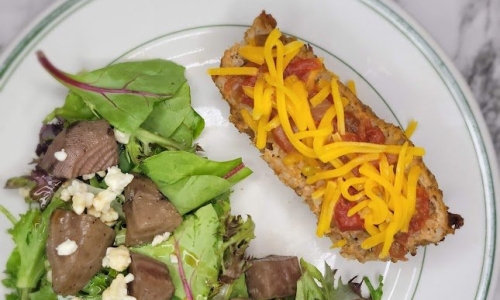 This recipe was written and/or compiled by Belinda Jones, CHHC, NWLC, PFC.
Yield: 8 servings
Ingredients:
¼ cup chopped onion
1 tablespoon canola oil
1 cup uncooked long grain rice
1 tablespoon minced fresh garlic
1 14.5-ounce can of beef broth
1 15-ounce can of black beans, rinsed and drained
2 pounds of raw ground turkey
1 cup frozen or canned whole kernel corn, thawed or drained
½ cup salsa
¼  – ½ cup crushed jalapeno toasted tortilla chips
1 teaspoon taco seasoning blend*
Homemade Taco Seasoning Blend
4 tablespoons chili powder
3 tablespoons +1 teaspoon paprika
3 tablespoons ground cumin
1 tablespoon plus 2 teaspoons onion powder
1 teaspoon garlic powder
¼ teaspoon cayenne pepper
Combine and store in an airtight container.
Optional Toppings:
Shredded Mexican-style four-cheese blend, 
Chopped tomato
Snipped fresh cilantro
Sliced fresh jalapeno pepper
Lime wedges 
Instructions:
In a large saucepan cook onion in hot oil over medium heat for 5 minutes or until tender. Stir in rice and garlic. Add beef broth and stir. Bring to a boil; reduce heat and simmer, covered, for 10 to 15 minutes or until rice is tender. Stir in beans and set aside to cool slightly for about 20 minutes.

Preheat the oven to 350℉. Line a 15x10x1-inch baking pan with parchment paper (or 2 loaf pans 5x9x2); set aside. In a large bowl combine turkey, corn, salsa, crushed chips, and taco seasoning. Stir in rice mixture. In the prepared baking pan, lightly pat the turkey mixture into a 10×5-inch loaf (or split the mixture into the 2 loaf pans). Bake for 1.25 to 1.5 hours or until an instant-read thermometer inserted near the center of the loaf registers 165 degrees F.

Let the meatloaf stand for 10 minutes. If desired, sprinkle with cheese, tomato, cilantro, and/or sliced jalapeno and serve with lime.
Nutritional Information:
Serving size: ⅛ of the Loaf 
Calories: 343 
Protein: 30g
Carbohydrates: 33g
Fat: 11g