Southwest Chicken & Veggie Bowl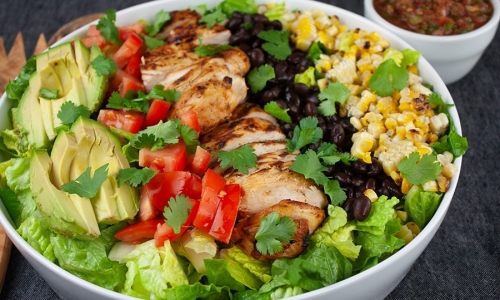 This recipe was written and/or compiled by Belinda Jones, CHHC, NWLC, PFC.
Ingredients:
4-6 oz chicken breast-marinated in Braggs, garlic, chipotle sauce
Toasted jalapeno crumbs
2 cups arugula
1 cup slivered romaine lettuce
1 cup black beans
¼ cup diced black olives
1 chopped fresh avocado
½ cup whole kernel corn
1 tsp diced fresh jalapeno pepper
¼ cup diced red pepper
¼ cup diced red onion
1 tsp lime juice
1 cup diced Roma tomatoes
½ cup Greek-style yogurt
1 teaspoon chipotle sauce
2 tablespoons prepared salsa
1 tablespoon Mrs. Dash Fiesta Lime spice
Toasted jalapeno chips
Instructions:
Coat chicken in jalapeno crumbs.

In a nonstick skillet coated with cooking spray, sear each chicken breast until lightly browned. Transfer to a 325-degree oven for 10-15 minutes to finish cooking.

Combine jalapeno, pepper, onion, and tomatoes; toss with lime juice & lime spice.

Combine yogurt, chipotle sauce, and salsa; set aside.

Combine lettuce and arugula. Divide the lettuce mixture among four plates.

Visually divide bowls into sections.

Top each section of a bowl with ¼ of the beans, corn, olives, pepper mixture, and chicken. Then top with ¼ of the avocado and chips. Garnish with a dollop of yogurt mixture to serve.
Nutritional Information:
Yield: 4 servings
Serving size: 1 Bowl
Calories: 383
Protein: 48 g
Carbohydrates: 27 g
Fat: 8 g