Savory Egg & Sweet Potato Scramble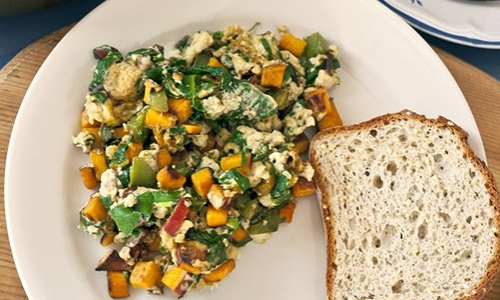 Author: Chef Belinda Jones
Yield: 4 servings 
Ingredients: 
8 eggs 
⅓ cup milk (2%)
½ teaspoon ground cumin 
¼ teaspoon salt substitute 
¼ teaspoon ground black pepper 
1 tablespoon light butter 
1 medium sweet potatoes (about 1/2 pound total), peeled, quartered lengthwise and thinly sliced
1 green onion, sliced 
2 cups baby spinach 
Fresh Italian (flat-leaf) parsley 
Bottled hot pepper sauce (optional) 
Instructions: 
In a medium bowl, whisk together eggs, milk, cumin, salt, and pepper; set aside. 

In a large skillet, melt butter over medium heat. Add sweet potatoes and green onion. Cook, stirring occasionally until potatoes are lightly browned and just tender, about 8 minutes. Add spinach and cook until slightly wilted, about 1 minute. 

Pour egg mixture over potato mixture in skillet. Cook, without stirring, until mixture begins to set on bottom and around edges. Lift and fold partially cooked egg mixture so the uncooked portion flows underneath. Continue cooking for 2 to 3 minutes or until the egg mixture is cooked through but still glossy and moist. Sprinkle with fresh parsley. Remove from heat and serve at once. Pass the bottle of hot pepper sauce. 
Nutritional Information: 
Serving size: ¼ recipe. 
Calories: 187k 
Protein:14g
Carbohydrates: 13g
Fat: 9g