Roasted Vegetable & Lentil Kale Salad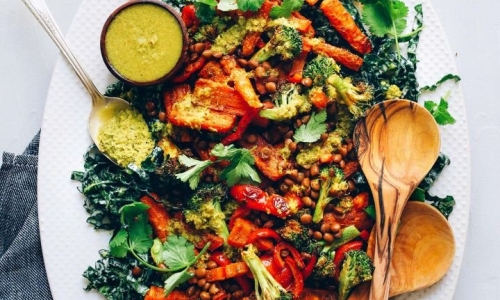 This recipe was written and/or compiled by Belinda Jones, CHHC, NWLC, PFC.
Yield: 6 servings
Ingredients
Vegetables
4 medium carrots (cut into bite-size)
2 Tbsp melted coconut oil (divided)
1 pinch of each, salt substitute and pepper
1 tsp curry powder
1 medium red onion, wedged
1 medium red bell pepper
1 small head of broccoli
Salad
1 large bundle of kale
1 Tbsp sesame oil
2 Tbsp lemon juice
1 Tbsp maple syrup
1/2 tsp apple cider vinegar
3-5 Tbsp water (to thin)
1 cup cooked brown or green lentils
Instructions
Preheat the oven to 375 degrees F (190 C) and line a large baking sheet with parchment paper (or more baking sheets if increasing batch size).

Add carrots to a small mixing bowl and drizzle with half of the oil (1 Tbsp or 15 ml), a pinch of each salt substitute and pepper, and 1/2 tsp curry powder. Toss to combine, then arrange on the baking sheet.

Roast for 12 minutes. In the meantime, add bell pepper, onion, and broccoli to the same mixing bowl and drizzle with the remaining 1 Tbsp oil, salt, pepper, and 1/2 tsp curry powder. Toss to combine.

Once the carrots reach the 12-minute mark, remove them from the oven and increase the heat to 400℉. Add the peppers and broccoli to the pan. Then roast for 10-15 minutes more or until all vegetables are tender and slightly golden brown.

In the meantime, add the kale to a large mixing bowl. 

In a separate small mixing bowl, add the sesame oil, lemon juice, maple syrup, and apple cider vinegar and whisk to combine. Thin with water 1 Tbsp (15 ml) at a time until thin and pourable.

Pour dressing over the kale and massage with hands or tongs/serving spoons. Spread the kale over a serving platter or keep it in a mixing bowl for serving. Top with lentils and set aside.

Remove roasted vegetables from the oven and add to the salad and lentils. Garnish with fresh cilantro (optional).

Enjoy immediately. Store leftovers in the refrigerator for up to 3-4 days, though best when fresh.
Nutritional Information:
Yield: 6 servings
Serving size: 1 cup
Calories: 129
Protein: 6 g
Carbohydrates: 17 g
Fat: 6 g