Pork Chops With Caramelized Onion & Mushroom Sauce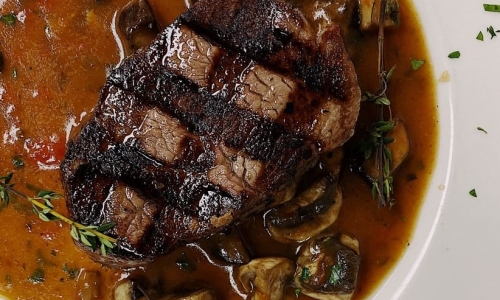 This recipe was written and/or compiled by Belinda Jones, CHHC, NWLC, PFC.
Pork Chops With Caramelized Onion & Mushroom Sauce
Serving size: 4
Ingredients:
4 (6 oz) boneless pork chops
Flour
Salt substitute & freshly ground black pepper, to taste
6 medium fresh mushrooms, sliced
2 tablespoons olive oil
2 tablespoons unsalted butter, divided
1 medium yellow onion, sliced and separated
1 (14.5 oz) can beef broth
1 ½ teaspoon Braggs liquid aminos
1 teaspoon dried parsley
1 teaspoon dried thyme
¼ cup evaporated milk (optional)
1 – 2 tablespoons cornstarch (optional)
1 bay leaf (optional)
Instructions:
Season chops with flour, salt substitute, and pepper.

Heat 2 tablespoons olive oil in a cast-iron skillet over medium-high heat; sauté chops until golden brown and remove from pan.

Add onions to the pan and lightly brown.

Remove the onions and add 1 tablespoon unsalted butter; when melted, add the mushrooms.

Remove the mushrooms and deglaze skillet with 1/3 cup beef broth.

Pour remaining beef broth into a deep-sided iron skillet and add the sauce from the first skillet, Braggs, spices, chops, onions, and mushrooms.

Cover and cook on LOW heat setting for 30 – 45 minutes, or until very tender.

EXTRACT BAY LEAF.

Turn temperature to HIGH; add 1 tablespoon butter.

Mix cornstarch with evaporated milk. Whisk to blend well and pour over chops in skillet and mix.

Cook for an additional 15 – 20 minutes (depending on preferred sauce thickness).
Nutritional Information:
Serving size: 1 chop plus ¼ cup sauce
Calories: 324
Protein: 38g
Carbohydrates: 6g
Fat: 16.5g