Peanut Butter Cookies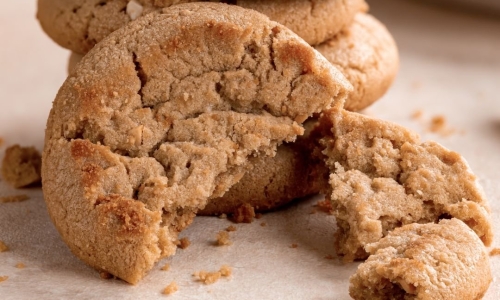 This recipe was written and/or compiled by Belinda Jones, CHHC, NWLC, PFC.
Makes 18 servings
Ingredients:
1 ¼ cups whole wheat all-purpose flour
¾ cup packed brown sugar
½ tsp baking soda
½ tsp baking powder
1 egg white
1 tsp vanilla
½ cup low-sodium peanut butter
½ cup light natural butter softened
Instructions:
1. In a large mixing bowl combine flour, sugar, baking soda, and baking powder. Mix well.
2. Then add peanut butter, vanilla, and egg white. Mix thoroughly using your hands.
3. Now slowly mix in the softened butter to get the desired consistency.
4. Shape the dough into 1-inch balls. Place 2 inches apart on a cookie sheet sprayed with
cooking spray.
5. Flatten by crisscrossing with the tines of a fork.
6. Bake at 350 degrees for 7 to 9 minutes or until lightly brown and soft.
7. Remove from oven, let stand 2 minutes, then remove from pan to cool.
Nutritional Information: (Please note that all nutrition information is just estimated. Values vary among brands, so we encourage you to calculate these independently for the most accurate results.)
Serving size: 2 cookies
Calories: 122
Protein: 4g
Carbohydrates: 12g
Fat: 6g