Parmesan Garlic Crumbed Fish Fillet with Tomato Lime Salsa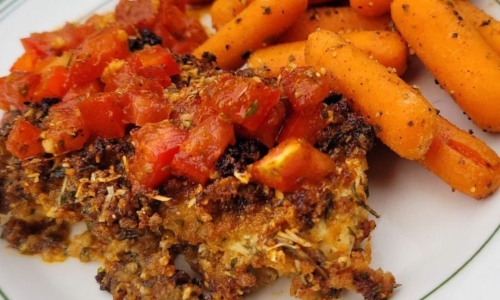 Savor the Summer with a Scintillating Southern Favorite: Parmesan Garlic Crumbed Fish Fillet with Tomato Lime Salsa
Hello, fellow food enthusiasts!
As the golden sun peeks out from behind the clouds and summer greets us with its vibrant, warm embrace, we're embarking on another culinary adventure sure to whisk your taste buds away to a world of epicurean delight. Today, we're delving into the heart of southern hospitality with a mouthwatering recipe courtesy of the iconic Tennessee Fitness Spa – the Parmesan Garlic Crumbed Fish Fillet coupled with a refreshingly robust Tomato Lime Salsa.
This delectable delight, a symphony of flavors harmoniously intertwined, masterfully brings together the delicate succulence of white fish with the zesty freshness of tangy salsa. Each bite is a gratifying summer tale, echoing the liveliness and joy of the season. Picture the sun-kissed, crystal-clear water, gently cradling our star ingredient: the firm, white fish fillets, basking in nature's glory before they find their way onto your dinner plate.
The magic starts when the fresh fillets, precisely seasoned with a salt substitute and pepper, get a delightful spread of Dijon mustard – a piquant tease to the palate. The fillets are then generously adorned with a savory crumb concoction, a handcrafted medley of panko breadcrumbs, finely chopped parsley, paprika, grated parmesan, and minced garlic. A generous drizzle of olive oil gilds the proverbial lily, contributing a rich, velvety note to this crustaceous crown.
The gastronomic crescendo comes in the form of oven magic. As the fish fillets are slowly roasted, the crumb coating turns golden and crispy, creating a textural carnival against the tender fish. The aromatic symphony of the garlic, parmesan, and a hint of lemon pepper spice combined with the crunchy crumb cloak culminates into a tantalizing treat that dances on the tongue with each bite.
But wait, our summer fiesta isn't complete without the pièce de résistance, the Tomato Lime Salsa. This tantalizing mix boasts vibrant tomatoes, diced bell pepper, minced fresh cilantro, and a hint of green onion – a jubilant confetti of freshness. An extra hint of minced garlic whispers promises of depth, while the liberal splash of lime juice, zest, and extra-virgin olive oil lifts the flavor profile to exhilarating new heights. A subtle kiss of spice from chili powder and dried oregano, coupled with a sprinkle of Fiesta Lime Spice, adds the final flourish. The result? A salsa that sings of summer, bursting with a medley of flavors that perfectly complement the richness of the fish.
When spooned over the warm, crumbed fillets, the salsa serves as a refreshing curtain call – the vibrant crunch of fresh veggies contrasting beautifully with the rich, flaky fish, the tart lime cutting through the velvety Parmesan and garlic, the hint of heat playing a gentle counterpoint to the cooling cilantro.
Whether you're a seasoned cook or a kitchen novice, this Tennessee Fitness Spa favorite is an exciting yet approachable culinary journey. Nutritious and immensely satisfying, it brings a dash of Southern charm straight into your kitchen. Not just a mere meal, but an unforgettable summer experience, this Parmesan Garlic Crumbed Fish Fillet with Tomato Lime Salsa is a culinary passport to a season of sun, fun, and tantalizing flavors. Here's to a summer filled with culinary delight and heartwarming memories. Bon appétit, y'all!
Parmesan Garlic Crumbed Fish Fillet with Tomato Lime Salsa
Yield: 2 servings
Ingredients:
2 firm white fish fillets (about 5 oz / 150g each), skin off, at room temperature
2 tsp Dijon mustard
Olive oil spray
Salt substitute and pepper crumb
1/2 cup panko breadcrumbs
1 tbsp parsley, finely chopped
1 tbsp paprika
2 tbsp parmesan (grated)
1 garlic clove, minced
1 tbsp olive oil
1 tsp lemon pepper spice
Pinch of ground red pepper
Instructions
Preheat oven to 400.

Combine the Crumb ingredients and mix well to combine.

Season each fillet with salt substitute and pepper, then spread the mustard on the top of each fillet.

Press the crumb mixture onto the mustard on each fillet. Press down firmly to make it stick.

Spray a baking pan with cooking spray and place in the oven until the pan is hot.

Place the fillets in the pan and cook for 10-15 minutes uncovered.

The fish is ready when the crumbs are golden brown. Serve immediately.
Nutritional Information:
(Please note that all nutrition information is just estimated. Values vary among brands, so we encourage you to calculate these independently for the most accurate results.)
Serving size: 1 Crusted Fish Fillet 
Calories: 263 
Protein: 33g
Carbohydrates: 12g
Fat: 9g
Tomato Lime Salsa
Ingredients
2 tomatoes, seeded and diced
1/4 cup bell pepper, diced
1/4 cup fresh cilantro, minced
1 green onion, sliced
1 garlic clove, minced
2 tbsp extra-virgin olive oil
2 tbsp fresh lime juice
2 tbsp fresh lime zest
1/2 tbsp paprika
1/2 tbsp chili powder
1/2 tbsp dried oregano
Fiesta Lime Spice and freshly ground black pepper
Instructions
In a bowl, combine the tomatoes, bell pepper, cilantro, green onion, garlic, olive oil, lime juice, lime zest, and season to taste.

Refrigerate until ready to eat.
Nutritional Information:
(Please note that all nutrition information is just estimated. Values vary among brands, so we encourage you to calculate these independently for the most accurate results.)
Serving size: ¼ recipe 
Calories: 55 
Protein: 1.2g
Carbohydrates: 6.4g
Fat: 3.5g