Lemon Blueberry Cream Filled French Toast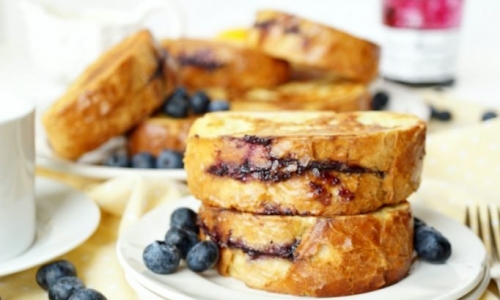 Lemon Blueberry Cream Filled French Toast 
Recipe was written and/or compiled by Belinda Jones, CHHC, NWLC, PFC.
Yield: 4 servings
Ingredients: 
1 (8 oz) package low fat cream cheese, softened 
3 tablespoons chopped almonds 
2 tablespoons sugar substitute
1 teaspoon lemon juice 
8 slices whole-grain bread 
¾ cup blueberries, divided 
2 eggs 
¾ cup 2% milk 
Lemon zest 
1 teaspoon vanilla extract 
½ teaspoon ground cinnamon 
butter-flavored cooking spray 
Instructions:
Stir the cream cheese, almonds, sugar, and lemon juice together in a bowl until the mixture is soft and thoroughly combined; spread over one side of each bread slice. Place 1/4 of the blueberries onto a bread slice; press down on the berries to keep them from rolling off. Top the blueberries with a cream cheese-spread slice. Repeat 3 more times with the remaining berries to make 4 blueberry sandwiches. 

Beat the eggs, milk, vanilla extract, lemon zest, and cinnamon together in a bowl until blended. Spray a skillet with cooking spray and heat over medium-low heat. 

Dip each blueberry sandwich into the egg mixture on both sides; fry in the prepared skillet until golden brown, about 3 minutes per side.
Nutritional Information:
Serving size: Stuffed Toast 
Calories: 190
Protein: 17g
Carbohydrates: 24g
Fat: 4g
Image from Valentina at https://www.thebakingfairy.net/2017/04/blueberry-preserves-stuffed-french-toast/