Grilled Vegetable & Hummus Wrap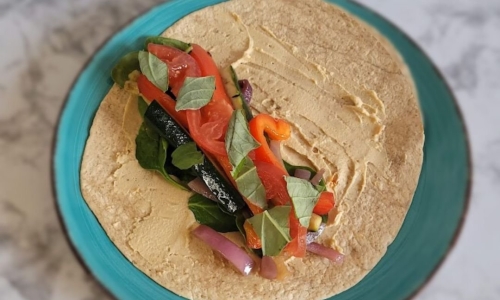 This recipe was written and/or compiled by Belinda Jones, CHHC, NWLC, PFC.
4 servings
Ingredients
1 (12 oz.) eggplant
1 grilled red onion
1 sliced fresh tomato
Fresh spinach (1 cup should be enough)
1 large zucchini
1 red bell pepper
2 tbsp + 2 tsp olive oil
½ tsp salt substitute
½ tsp ground pepper
¾ tsp ground dried rosemary
½ cup hummus
4 whole wheat tortillas
6 large basil leaves, thinly sliced
Directions
Preheat the grill to medium heat.

Cut the eggplant into ½-inch slices (total of 12 slices). Cut the zucchini in half crosswise. Cut each half into ¼-inch slices (total of 8 slices). Cut the red pepper into quarters.

Lay the eggplant, red pepper, and zucchini slices on a baking sheet. Brush on both sides with olive oil and season with salt and pepper.

Grill until the vegetables are tender, but not overcooked, about 4 minutes per side for the eggplant and 3 minutes per side for the zucchini and red bell pepper.

Transfer the vegetables to a cutting board and cut them into strips.

Spread 2 tablespoons of hummus on each whole wheat tortilla and divide the grilled vegetables, spinach, and basil leaves between the 4 wrap sandwiches.

Fold up the bottom of the tortilla and fold on the sides. Serve.
Nutritional Information (Please note that all nutrition information is just estimated. Values vary among brands, so we encourage you to calculate these on your own for the most accurate results.)
Serving size: 1 wrap
Calories: 385
Protein: 12.7g
Carbohydrates: 50g
Fat: 15.3g