Crispy Baked Tofu with Kale & Wild Rice Salad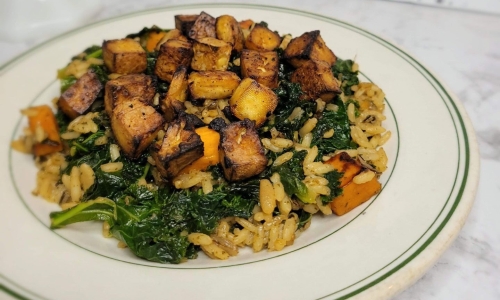 Crispy Baked Tofu with Maple Garlic Soy Sauce
Servings: 3
Ingredients
1 block extra firm tofu, drained (14 ounces)

1 tablespoon grapeseed oil

2 teaspoons rice vinegar or vinegar of choice

2 teaspoons soy sauce or gluten-free tamari or Braggs liquid amino

1 teaspoon maple syrup or sweetener of choice

½ teaspoon garlic powder

Black pepper

Fresh herbs for garnish (optional)
Instructions
Press the tofu: Wrap the drained tofu block in a clean towel and place it on a cutting board. Place a heavy object (such as a cast iron skillet) on top to press out the remaining liquid. Wait at least 30 minutes before removing the heavy object and unwrapping the tofu. Store in the refrigerator if you plan to press tofu overnight or longer than 2 hours.

Slice the pressed tofu into square pieces.

Preheat oven to 450 degrees Fahrenheit.

Whisk grapeseed oil, rice vinegar, soy sauce, maple syrup, garlic powder, and black pepper. Brush onto tofu pieces, reserving some sauce for serving if desired. 

Spread tofu pieces on a baking sheet, leaving at least an inch between the pieces so they have space to get crispy. Place the baking sheet on the center rack of the oven and bake for 10 minutes. Flip tofu pieces and bake for 10 additional minutes. Stir and bake for 10 additional minutes, or until the edges are crispy and golden brown. (30 minutes total cooking time.)

Transfer cooked tofu to a serving dish and garnish with fresh herbs and remaining sauce if desired.
Nutritional Information (Please note that all nutrition information is just estimated. Values vary among brands, so we encourage you to calculate these on your own for the most accurate results.)
Serving size: ⅓ of tofu
Calories: 190
Protein: 15.44g
Carbohydrates: 5.59g
Fat: 13.41g
Caramelized Sweet Potato, Kale & Wild Rice
Serves 4 as a side dish
Ingredients
¾ cup wild rice blend + chicken broth to cook it in
1  tablespoon of Braggs liquid amino
4 cups packed chopped curly kale (about ½ bunch)
1 tablespoon butter
1½ cups ½ – inch cubed sweet potato (about 1 medium-sized sweet potato)
2 teaspoons brown sugar
¼ cup diced red onion
For the Maple-Dijon Vinaigrette:
2 tablespoons extra virgin olive oil
2 tablespoons balsamic vinegar
1 tablespoon maple syrup
1 teaspoon Dijon mustard
2 cloves garlic, finely minced
Salt substitute and pepper
Instructions
Prepare rice according to package instructions using chicken or vegetable broth in place of water. Set aside. (Can be made ahead of time)

Add ingredients for Maple-Dijon Vinaigrette in a jar with a tight-fitting lid, then shake to combine and set aside.

Fill a wok or large skillet with water, then boil. Add a tablespoon of Braggs and kale, then boil until tender, 4-5 minutes. Drain, then when kale is cool enough to handle, squeeze out excess water with your hands, crumble, and set aside.

Turn heat down to medium-high, then melt butter in a skillet. Add brown sugar, onion, and sweet potatoes, onion season with salt, then saute until tender and caramelized, 8-10 minutes. Add kale, cooked rice, and Maple-Dijon Vinaigrette to the wok, then toss to combine.
Nutritional Information:
Serving size: 1/2 cup
Calories: 130.5 
Protein: 2.5g
Carbohydrates: 18.75g
Fat: 6g