Creamy Dijonnaise Chicken With Crispy Bacon, Mushrooms & Spinach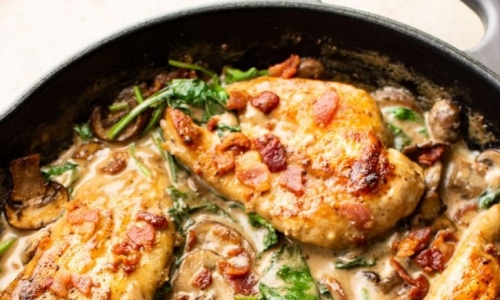 Recipe written and/or compiled by Belinda Jones CHHC, NWLC, PFC
Yield: servings 6 
For The Chicken: 
6 (5oz) boneless, skinless chicken breast marinated in Italian dressing 
1 teaspoon salt substitute 
1 cup flour 
1/4 teaspoon pepper 
5 ounces bacon 
For The Sauce: 
2 tablespoons butter 
3 green onion, diced 
4 cloves garlic, minced (or 1 tablespoon minced garlic) 
1 tablespoon fresh chopped parsley 
1 teaspoon dried thyme 
1 teaspoon dried rosemary 
1/3 cup low-sodium chicken stock or broth 
1 1/2 cups evaporated milk 
2 tablespoons Dijon mustard 
1/2 teaspoon chicken bouillon powder 
1/2 teaspoon freshly ground black pepper, to taste 
1/2 cup sliced mushroom 
1/4 cup Parmesan cheese 
2 cups baby spinach leaves 
Instructions:
Combine flour, salt substitute, and black pepper 

Evenly coat marinated chicken in flour mixture. 

Heat 1 tablespoon of oil in a large pan or skillet over medium-high heat and cook chicken until crispy and cooked through (about 8 minutes each side, depending on thickness). Transfer to a plate and set aside. 

In the same pan or skillet, add bacon and fry until crispy. Transfer to a plate and set aside. Drain some of the bacon fat, leaving about 2 tablespoons. 

Heat butter in the pan and sauté onion and mushrooms until transparent. Add the garlic, parsley, thyme, and rosemary and sauté for about 1 minute until fragrant. 

Add in chicken broth to deglaze the pan while scraping up any bits from the bottom of the pan; simmer for 3-4 minutes or until the broth has reduced by half. 

Pour in milk and Dijon, mix thoroughly and bring to a simmer. Reduce heat and cook gently for a further minute to allow the sauce to thicken. 

Add the Parmesan and allow it to melt through the sauce. Season to taste with bouillon powder and pepper. 

Add the spinach and allow it to wilt. Return chicken to the skillet and top with crispy bacon. Sprinkle with extra herbs if desired. Serve immediately. 
Nutritional Information: 
Serving size: 1 breast with ¼ cup sauce.
Calories: 320k 
Protein: 40g 
Carbohydrates: 16g 
Fat: 10g
Image from Natasha Bull at saltandlavender.com