Cranapple Skillet Pork Chops and BB's Broccoli & Bacon Salad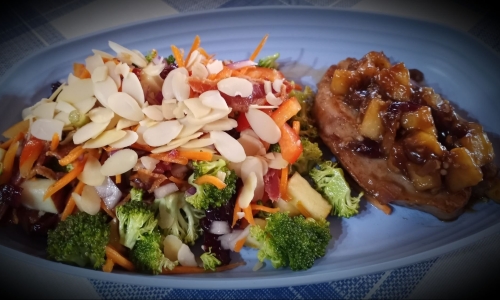 Cranapple Skillet Pork Chops 
Servings: 6 
Ingredients 
6 1-inch thick boneless pork chops 
½ cup Braggs liquid amino 
½ cup Apple juice 
1 tablespoon olive oil 
½ cup diced apple 
1 cup Chicken broth 
2 tbsp Cornstarch 
¼ cup Apple juice 
¼ cup dried cranberries 
Instructions 
Marinate the chops in Braggs & apple juice for 2 hours at least. 

Preheat the oven to 350°F. 

In a large ovenproof skillet or cast iron pan, heat up the olive oil. Add the pork chops and cook each side until golden brown, about 3 to 4 minutes per side. 

Transfer the skillet to the oven and cook for about 12 to 15 minutes or until the internal temperature reaches 145°F. (See notes.) 

Combine cornstarch & chicken broth.

Remove the skillet from the oven and transfer the pork chops to a platter. Cover them loosely with aluminum foil and let them rest while you make the sauce. 

Pour off any excess fat from the skillet. Return the skillet to the stovetop over medium-high heat. Pour in the apple juice and stir scraping the bottom of the pan. 

Add the cranberries & diced apples and simmer for about 5 minutes or until the liquid reduces by half. Lower the heat to medium-low and add the combined cornstarch & chicken broth. Stir and simmer for about 3 minutes until the sauce thickens.

Taste the sauce and adjust the seasoning. 

Return the pork chops to the skillet and coat them with the sauce. Serve. 
Notes: You can remove the pork from the oven when the internal temperature has reached 140° F. The temperature will rise to 145°F while the pork chops rest. 
Nutritional Information *Please note that all nutrition information is just estimated. Values vary among brands, so we encourage you to calculate these on your own for the most accurate results.
Serving size: 1 Pork chop
Calories: 334
Protein: 29g
Carbohydrates: 11g
 Fat: 13g
BB's Broccoli & Bacon Salad 
Servings: 8 cups 
Ingredients 
Salad 
8 cups raw broccoli florets, cut into small and even pieces 

½ cup diced red onions 

½ cup dried cranberries (Dried cherries are great too!) 

½ cup slivered almond 

½ cup finely diced bacon, cooked 

1 cup diced red apple 

½ cup slivered carrots 
Dressing 
1 cup apple juice 

½ cup apple cider vinegar 

¼ cup apricot preserves 

2 tbsp olive oil 

1 tbsp minced garlic 
Instructions 
In a large bowl, combine the broccoli florets, red onions, cranberries, almonds, and bacon and toss until evenly distributed. 

In a small bowl, whisk together the dressing ingredients and pour over the broccoli mixture. 

Toss lightly until the broccoli is evenly coated. 

Serve immediately, garnished with extra onions, almonds, cranberries, and bacon bits if desired. 
Nutrition Information *approximate and was calculated using a recipe nutrition label generator.
Serving size: 1 Cup
Calories: 159
Protein: 6g
Carbohydrates: 18g
 Fat: 8g