Covid Precautions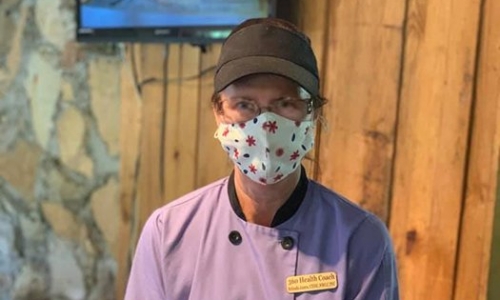 Come stay with us and enjoy a week or more of much-needed restoration.  Along with the safety protocols mentioned below, we are not operating at full capacity; so book early to reserve your spot.  We are booking private accommodations, unless you're traveling with someone to better protect your health.
We know that making the decision to travel now can be stressful, so we want you to know what we are doing to safeguard the health of our guests and staff.  From the time you arrive until the moment you depart, we are committed to helping you be and feel safe.  Here are just some of the things we're doing:
We recommend solo travelers book private accommodations
A log is kept in each department for employees to record their temperatures and answer health screening questions each day
All campus areas and activities have been reviewed and modified for proper social distancing
Our already high standards for cleaning and sanitizing have been evaluated for added frequency in high-traffic areas
Plexi-glass barriers have been added to our front desks and kitchen window
We're utilizing the beautiful outdoors (when the weather permits) to offer more frequent outdoor guest experiences
In our gyms and in classes, we are maintaining a 6-foot or more distance between participants (except those traveling together)
Our dining room has a one-way traffic flow, with a plexi-glass barrier between our guests and the kitchen staff.  We also have several choices of spots for outdoor dining, and we offer our meals to-go as another option
For services requiring person-to-person touch, masks and other protective gear may be worn, following the guidelines for safe operations for spas and other service-related businesses
We no longer offer any self-serve food or drink stations, such as salad bars and coffee pots
Housekeeping will not be entering rooms once an occupant has arrived.  However, they will be supplying fresh towels and other necessities as needed, as well as trash removal
We require masks to be worn inside all public areas.  There are some exceptions which include the following: participating in fitness classes, eating in the dining room, using the racquetball court; and using the pool, sauna, or hot tub.  Social distancing will still be observed in these areas
 So if you want to enjoy a healthy vacation, jumpstart your weight loss or fitness routine, we have a safe and comfortable place to experience and enjoy.