Cinnamon Crepes With Peaches and Cream Cheese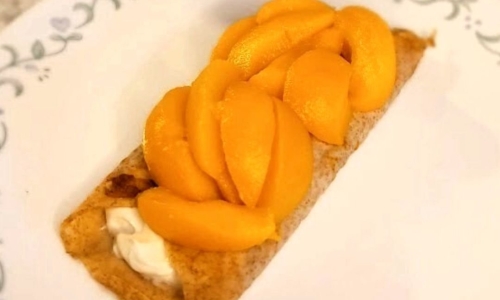 This recipe was written and/or compiled by Belinda Jones, CHHC, NWLC, PFC.
Yield: 6 servings
Ingredients:
¼ cup sugar substitute
1 cup nonfat Greek-style yogurt
¾ cup low-fat cream cheese softened
2 teaspoons fresh lemon juice, divided
3 ½ cups sliced peaches
1 teaspoon brown sugar
1 teaspoon almond extract
2 tablespoons slivered almonds
1 ½ tablespoons natural butter
6 prepared crepes (Recipe below)
½ teaspoon cinnamon
Instructions:
Combine yogurt, cream cheese, sugar substitute, and 1 ½ teaspoons of lemon juice, until mixed well and smooth.

Combine remaining lemon juice, peaches, brown sugar, almond extract, and butter in a saucepan, and let simmer until butter is melted and sugars dissolved. Add almonds, stir to mix, and remove from heat.

Combine 1 teaspoon of butter with cinnamon, melt, and spread evenly on each side of the prepared crepe.

Divide the cheese mixture among each crepe, placing the mixture along the center of the crepe. Fold each side of the crepe over the cheese mixture toward each other. Top with ½ cup of peach mixture. Enjoy!!!
Serving size: 1 Crepe
Calories: 150
Protein: 14g
Carbohydrates: 15g
Fat: 4g
Crepe recipe from Martha McKinnon | Simple Nourished Living
Servings 8
Ingredients
½ cup whole wheat flour
¼ teaspoon ground nutmeg
1 cup almond milk
3 large egg whites, lightly beaten
Instructions
In a medium bowl, whisk together the flour and nutmeg until well combined. In a small bowl, beat together the milk and eggs. Add the milk mixture to the flour mixture and whisk until smooth. You can also just mix everything together in a blender if you prefer. Let the mixture stand for at least 1 hour and up to overnight. (Batter should be the consistency of heavy cream – thin it with a little water if it is too thick.)

When you are ready to make your crepes, spray an 8-inch non-stick skillet with a non-stick cooking spray set over medium heat. When a drop of water sizzles in the pan, it's ready. Give the batter another good stir and pour ¼ cup of the batter into the skillet, tilting the pan to coat the bottom completely. Cook until the top is set and the underside is golden brown, about 1½ minutes.

With a spatula, loosen the edge of the crepe and carefully flip it over. Cook until the second side is lightly browned, about 1 minute. Remove the crepe to a plate. 

Repeat with the remaining batter, lightly spraying the skillet with non-stick spray before adding more batter to make a total of 8 crepes.
Serving size: 1 Crepe
Calories: 43
Protein: 3.13g
Carbohydrates: 6.87g
Fat: .16g