Chicken Vegetable Stew & Hot Ham Vegetable Grilled Cheese with Honey Mustard Sauce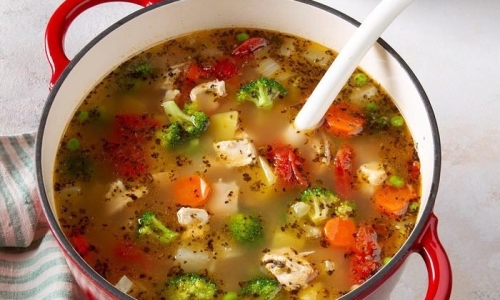 Chicken & Vegetable Stew
These recipes were written and/or compiled by Belinda Jones, CHHC, NWLC, PFC.
Ingredients:
1 teaspoon vegetable oil
1.5 pound, boneless chicken breast half-cut into bite-size pieces
8 cups water
1 (28oz) can low sodium stewed tomatoes *optional
1 chicken broth packet (Herbox)
1 clove of garlic, minced
2 tablespoon salt-free spice blend
1 teaspoon minced fresh ginger root
2 teaspoons Braggs liquid amino
1 small yellow squash, thinly sliced
1 (10 oz) bag of baby carrots
1 cup broccoli florets
1 cup cauliflower florets
1 cup shredded napa cabbage
1/2 red bell pepper, chopped
1 red onion, chopped
1 stalk celery, thinly sliced
1 small zucchini, thinly sliced
1 cup of snow peas
1 cup sliced fresh mushrooms
Instructions:
Heat the vegetable oil in a large Dutch oven or soup pot over medium-high heat, cook and stir the chicken breast meat until the chicken is no longer pink inside, about 3 minutes. When the chicken is cooked, stir in the water, tomatoes, chicken broth, garlic, salt-free spice blend, ginger, and Braggs. Bring the soup to a boil, and reduce heat to a simmer.
Stir in the yellow squash, carrots, broccoli florets, napa cabbage, red bell pepper, onion, celery, zucchini, cauliflower, and snow peas, and simmer until the carrots start to soften, and the broccoli and snow peas turn bright green, 1 to 2 minutes. Mix in the mushrooms, and simmer for 5 more minutes.
Nutritional Information
Serving size: 8 oz  of the recipe
Calories: 142
Protein: 12.8g
Carbohydrates: 16.1g
 Fat: 3g
Hot Ham & Vegetable Grilled Cheese with Honey Mustard Sauce
Servings: 4
Ingredients:
8 slices Healthy Life 35-calorie Whole Wheat Bread
2 Tablespoons light butter
8 slices ham
4 slices of cheddar cheese
1 cup fresh arugula or spinach, chopped
4 thin slices of tomato
For the Honey Mustard Sauce:
1/4 cup + 2 Tablespoons honey
1/4 cup yellow mustard
2 Tablespoons dijon mustard
1 cup mayonnaise
2 teaspoons hot sauce *optional
Instructions:
Make the honey mustard sauce by combining all ingredients in a bowl and stirring until smooth.
Cover and refrigerate until ready to use (can be made in advance).
Spread a thin layer of honey mustard sauce on the inside of the bread slices.
Layer the sandwich with 2 slices of ham, 1 slice of cheese, a handful of arugula or spinach, and a slice of tomato.
Heat a skillet over medium-low heat. Butter the outer sides of the sandwich.
Add the sandwich and cook for 2-3 minutes.
Flip to the other side and cook for a few more minutes until the cheese is melted and the bread is golden brown. Serve warm.
Nutritional Information
Serving size: 1 sandwich + 2 Tbsp sauce
Calories: 200 
Protein: 17g
Carbohydrates: 21.75g
 Fat: 5g