Chicken & Vegetable Stew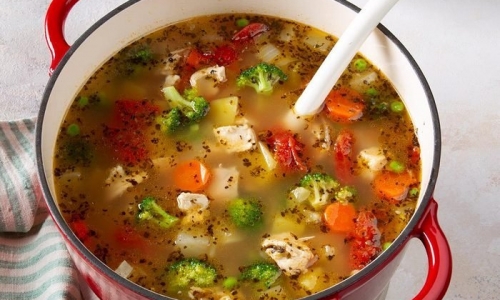 Chicken & Vegetable Stew
This recipe was written and/or compiled by Belinda Jones, CHHC, NWLC, PFC.
Ingredients
1 teaspoon vegetable oil 
1.5-pound boneless chicken breast – cut into bite-size pieces 
8 cups water 
1 (28-ounce) can low sodium stewed tomatoes* optional 
1 chicken broth packet (Herbox brand) 
1 clove garlic, minced 
2 tablespoon salt-free spice blend 
1 teaspoon minced fresh ginger root 
2 teaspoons Braggs liquid aminos 
1 small yellow squash, thinly sliced 
1 (10-ounce) bag baby carrots 
1 cup broccoli florets 
1 cup cauliflower florets 
1 cup shredded napa cabbage 
1/2 red bell pepper, chopped 
1 red onion, chopped 
1 stalk celery, thinly sliced 
1 small zucchini, thinly sliced 
1 cup snow peas 
1 cup sliced fresh mushrooms
Instructions 
Heat the vegetable oil in a large Dutch oven or soup pot over medium-high heat, and cook and stir the chicken breast meat until the chicken is no longer pink inside for about 3 minutes. 

When the chicken is cooked, stir in the water, tomatoes, chicken broth, garlic, salt-free spice blend, ginger, and Braggs. Bring the soup to a boil, and reduce heat to a simmer. 

Stir in the yellow squash, carrots, broccoli florets, napa cabbage, red bell pepper, onion, celery, zucchini, cauliflower, and snow peas, and simmer until the carrots start to soften, and the broccoli and snow peas turn bright green, 1 to 2 minutes. Mix in the mushrooms, and simmer for 5 more minutes. 
Serving size: 8 oz
Calories: 142 
Protein: 12.8 g
Carbohydrates: 16.1 g
Fat: 3 g
Image from TasteofHome.com