Chicken Cordon Bleu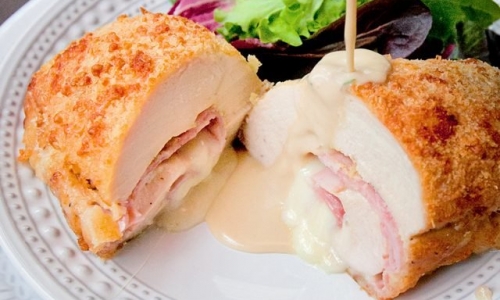 Author: Chef Belinda Jones
Yield: 4 servings 
Cook Time: 30 minutes
Prep Time: 20 minutes
Nutritional Information: Calories- 313k: Protein- 46g: Carbohydrates- 12g: Total Fat- 10g 
Ingredients
Cooking spray 
4 (6 oz) boneless skinless chicken breast, (pounded flat) 
Salt substitute and fresh cracked pepper 
1/4 cup grated mozzarella cheese 
4 slices thinly sliced lean deli ham, sliced in half 
4 slices (4.4 oz) Sargento reduced-fat Swiss cheese 
Panko bread crumbs, toasted 
Salt substitute 
Milk and egg for dredging 
Sauce:
1 tbsp butter 
1 tbsp flour 
1 cup milk
2 tbsp dijon mustard
3 tbsp parmesan cheese 
1 tsp minced garlic
Instructions 
Chicken:
Spray a large nonstick skillet with cooking spray. 

Wash and dry the chicken breast; lightly pound the chicken to make it thinner and lightly season with salt substitute and black pepper. 

Lay the chicken on a working surface and place a slice of ham on top of the chicken, then the mozzarella cheese and roll, setting them aside seam side down. 

Once all breasts are stuffed, dip in the dredge mixture and coat evenly with combined crumbs and additional salt substitute. Place seam side down in a lined baking pan and bake uncovered at 350 for 20-30 minutes, and core temp reaches 160-165 degrees. 

Once each breast is finished cooking. Top with a slice of Swiss cheese, allow melting… Remove from pan and set aside… 
Sauce:
1. Add sauce ingredients to a saucepan and mix well while heating. Serve over top of each stuffed chicken breast.