Cheesy Bacon Spinach Frittata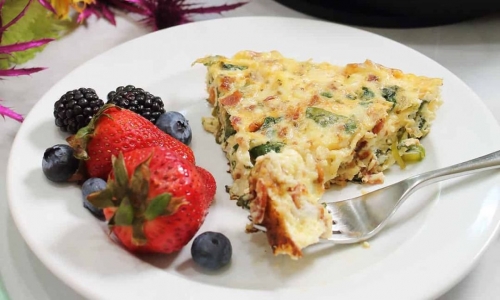 This recipe was written and/or compiled by Belinda Jones, CHHC, NWLC, PFC.
Ingredients:
4 strips of chicken bacon, diced
3 cups of fresh spinach, diced
½ cup of diced roasted red pepper
¼ cup diced red onion
4 ounces feta cheese
⅓ cup halved cherry tomatoes
10 eggs
½ cup 2% milk
Salt substitute
Pepper
Garnish with fresh diced chives
Instructions:
Preheat oven to 350 degrees.

In a large bowl, whisk together eggs and milk. Season with salt substitute & pepper and set aside.

Heat a medium-size oven-safe skillet to medium heat.

Add bacon & onions to the pan and cook until slightly crispy and tender, approximately 3-4 minutes.

Pour out bacon grease, leaving a tablespoon still in the pan; place the pan back on the burner and add spinach.

Stir until just wilted, about 2 minutes.

Add in roasted red peppers and egg mixture. Stir to mix everything together and top eggs with tomatoes and feta cheese.

Let sit on the burner for 4 minutes.

Transfer the pan to the oven and bake for 10-12 minutes or until the frittata has set (the eggs don't wiggle when you shake the pan).

Garnish with chives and serve!
Nutritional Information:
Yield: 6 servings
Serving size: 1 slice
Calories: 233
Protein: 20 g
Carbohydrates: 12 g
Fat: 12 g
Image from 2cookinmamas.com