Blueberry Crumble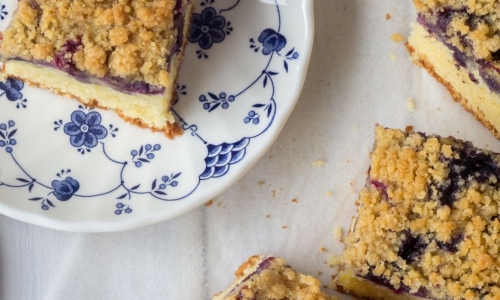 This recipe was written and/or compiled by Belinda Jones, CHHC, NWLC, PFC.
Servings 18
Ingredients
¼ cup sugar substitute
2 tablespoons cornstarch
⅓ cup water
1 teaspoon lemon juice
2 ½ cups fresh or frozen blueberries
1 package yellow cake mix (regular size)
1 ½ cups old-fashioned oats, divided
8 tablespoons spray butter, divided
¼ cup egg substitute
¼ cup packed brown sugar
Instructions:
In a saucepan, combine sugar substitute and cornstarch. Gradually whisk in water and lemon juice until smooth. Bring to a boil, stirring constantly. Stir in blueberries. Cook and stir for 2 minutes longer or until thickened and bubbly. Remove from the heat; set aside.

In a bowl, combine the cake mix and 1 cup of oats. Cut in 6 tablespoons butter until crumbly. Set aside 1 cup of crumb mixture for topping. Stir the egg substitute into the remaining crumb mixture.

Press the cake mixture into a 13-in. x 9-in. baking dish coated with cooking spray. Spread blueberry mixture to within 1/4 in. of edges. Combine the brown sugar, remaining oats, and reserved crumb mixture. Cut in remaining butter until crumbly. Sprinkle over top.

Bake at 350° for 30-35 minutes or until golden brown. Serve warm.
Nutritional Information: (Please note that all nutrition information is just estimated. Values vary among brands, so we encourage you to calculate these independently for the most accurate results.)
Calories: 102 
Protein: 3g
Carbohydrates: 17g
Fat: 2.2g