Asparagus with Balsamic Tomatoes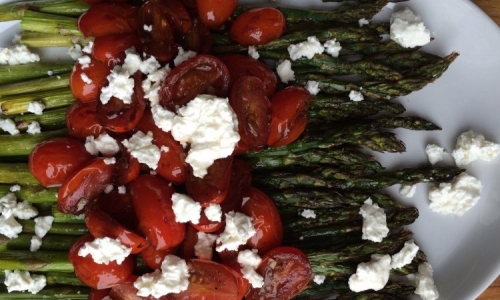 Asparagus with Balsamic Tomatoes
This recipe was written and/or compiled by Belinda Jones, CHHC, NWLC, PFC.
Ingredients:
1 pound asparagus, trimmed
2 tsp extra-virgin olive oil
1-½ cups halved grape tomatoes
½ tsp minced garlic
2 tbsp dark balsamic vinegar
½ tsp fresh ground black pepper
Instructions:
Cook asparagus in boiling water & 1 tbsp lemon juice for 2 minutes or until crisp-tender. Drain.

Heat olive oil in a large skillet over medium-high heat. Add tomatoes and garlic; cook 5 minutes.

Stir in vinegar; cook for 3 minutes. Arrange asparagus on a platter; top with tomatoes, sprinkle with black pepper, and serve.
Nutritional Information:
Yield: 4 servings
Serving size: 8 oz
Calories: 70 
Protein: 3 g
Carbohydrates: 6.5 g
Fat: 3.5 g