Apple Spice Pancakes from Tennessee Fitness Spa!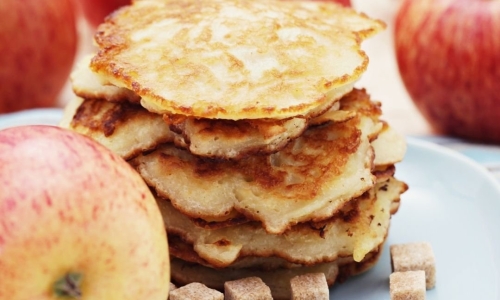 As autumn's golden embrace sweeps the landscape, turning leaves to shades of amber, ruby, and topaz, our cravings lean toward cozy, warm comforts. Nestled among the dazzling display of fall's finest is a dish that effortlessly captures the spirit of the season – the Apple Spice Pancakes, courtesy of the renowned Tennessee Fitness Spa!
Let's set the scene: Envision a crisp, cool morning with sunlight filtering through the trees, casting dappled golden glows. As the aroma of cinnamon wafts through the air, the day promises nothing short of magic.
At the heart of this heartwarming dish are sweet, crisp apples. Freshly grated, their crunch melds seamlessly with the soft fluffiness of the pancake, bringing forth an orchestra of textures. Ah, cinnamon! This aromatic spice doesn't just complement; it elevates the apples, wrapping them in a warm, spicy embrace. Every bite is like a playful waltz of flavors, making the chilly fall mornings a tad more special.
The dance of ingredients continues as creamy Greek yogurt intertwines with velvety melted butter, adding depth and richness to our pancake batter. The slivered almonds? Oh, they're not just a whimsical addition! They bring a delightful crunch, a surprising element that makes every mouthful even more memorable.
Now, let's talk about the cooking. As each spoonful of lumpy batter hits the pan, a delightful sizzle fills the air. Gently fried to perfection, the pancakes emerge golden brown, their edges crisped to perfection. The final touch? A generous drizzle of amber maple syrup, adding a touch of sweetness that makes these flapjacks genuinely irresistible.
The Apple Spice Pancakes aren't just a dish; they're an experience. A blend of fresh ingredients, a touch of spice, and heaps of love. As you sink your fork into these delectable pancakes, you're not just tasting food; you're relishing the essence of fall.
So, dear readers, as the leaves begin to fall and the world dons its autumnal hue, let's celebrate with a stack of these magnificent pancakes. They're not just a treat; they're a tribute to the beauty and flavor of the season.
Join us in this pancake parade and let's toast to a season filled with warmth, flavor, and beautiful memories! Here's to embracing fall, one pancake at a time. 🍁🥞🍎🍂
Apple Spice Pancakes
This recipe was written and/or compiled by Belinda Jones, CHHC, NWLC, PFC.
Servings: 6
Ingredients
2 medium sweet apples
1⅓ tsp cinnamon
2 medium eggs
⅔ cup Greek yogurt 
½ cup milk
1 tbsp melted butter
⅔ cup flour
6 tbsp slivered almonds/flakes, optional
1⅓ tsp baking powder
½ tsp butter buds
¼ tsp baking soda
Olive oil or oil spray for frying
Instructions
Combine the flour, baking powder, soda, and butter buds, stir using a whisk and set aside.

Whisk together the eggs, yogurt, and milk until the mixture is silky smooth. Stir in the melted butter and set aside.

Core, peel, and coarsely grate the apples. Combine with the almond flakes and cinnamon and stir thoroughly. Pour into the egg mixture and stir well. Add the flour mixture and stir just to combine. Do not over-stir, the batter should be lumpy.

Heat up a little oil (about 1 tablespoon) in a pancake pan, drop spoonfuls of batter onto the pan, flatten a little, and fry the pancakes over low heat for about 3-4 minutes on each side until they are lightly browned. Fry the pancakes in batches, avoiding overcrowding the pan, using approximately 1 tablespoon of oil for each batch.

Serve with maple syrup.
Nutritional Information
(Please note that all nutrition information is just estimated. Values vary among brands, so we encourage you to calculate these independently for the most accurate results.)
Serving size: 1 Pancake
Calories: 54 
Protein: 2g
Carbohydrates: 7g
Fat: 2g