A Look at Tennessee Fitness Spa's Nutritional Program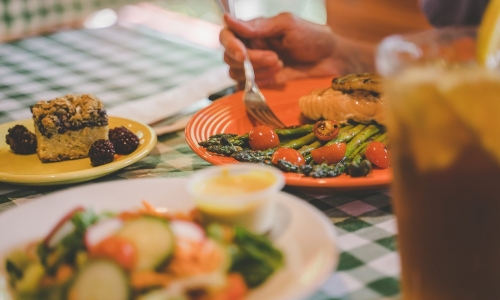 At Tennessee Fitness Spa, we serve nutritious, healthy meals that are low in fat, sodium, and sugar. This allows our guests to begin developing eating habits that support a healthier lifestyle while contributing to their overall weight loss efforts. Using guidelines set forth by the AHA, ADA, SHAPE America, and WHO, among others. Our dietary plan offers:
1200-1400 calories per day excluding salad bar, snacks, etc.
1400 mg or less of sodium each day
15% or less in simple sugar per day
25% or less of fat each day
40% protein per day
along with 35% complex carbs per day
Adhering to guidelines that promote healthy eating doesn't mean that foods can't be enjoyable! A number of foods that are low in fat, sugar, and sodium – such as pork, beans, and cruciferous vegetables – are both wholesome and delicious. Our cooks are well-trained in creating tasty, healthy foods. For example, a typical menu may offer a ham and cheese frittata for breakfast, citrus chicken fajitas for lunch, and Parmesan-crusted fish filet. Part of our mission at Tennessee Fitness Spa is to show our guests that healthy eating doesn't have to be a painful or difficult process.
Of course, our kitchen staff is also able to provide food substitutes for vegan or vegetarian guests as well as those that have allergies, medical restrictions, or personal preferences. We can also accommodate special dietary plans, such as the Paleo Diet, gluten-free diet, and so forth. Regardless of your dietary restrictions, our staff is here to work with you to establish healthier, more nutritious eating habits.
At Tennessee Fitness Spa, the aim of our nutritional program is to provide that initial spark of inspiration. We know that, once you go home, it's easy to fall back into bad eating habits. Our goal is to show you that it can be just as easy – and enjoyable – to continue eating in a way that promotes your long term health. If you are looking to lose weight, get healthier, or jumpstart a clean eating lifestyle, contact us today to learn how Tennessee Fitness Spa can help you in your journey.